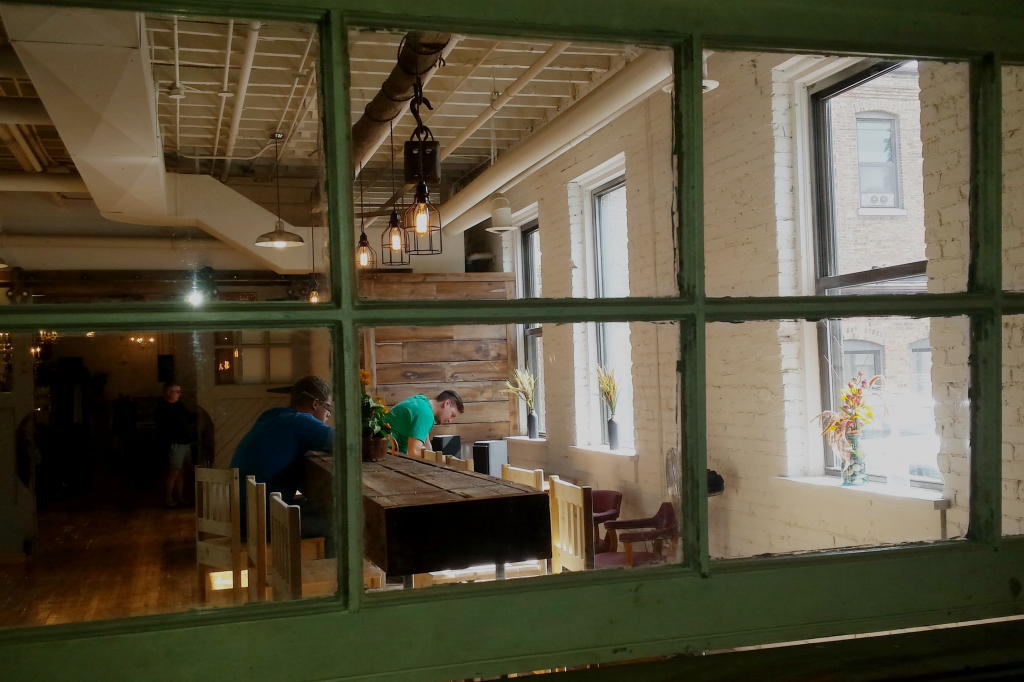 Steelyard Coffee Co. is a great cafe for the Elkhart area. With plenty of seating and a comfortable environment, the local demographic will warm up to this place quickly. Although the location is not central downtown, the parking is ample and the location is quite convenient to both commuters and natives. Its location just down the road from the airport and right off major roads that cross through downtown and north-side Elkhart makes this an easy detour for anyone looking to stop in for something refreshing.
As a barista and coffee professional, my emphasis in reviewing cafés has always been the coffee. I know from my research that Steelyard uses quality coffee from a local roaster (the Refinery Café) and as soon as I saw Kyla Bender behind the counter I knew they were training the staff well also.
While my husband and I did not eat any of the sandwiches, we did each have different drinks so we could sample a variety of their specialties. I decided on having the Mint Blackberry Tea (mixed with a little lemonade); E-man had a pumpkin latte with an extra shot of espresso. The tea was refreshing and not too sweet or sour; you could tell it was the black tea base, with enough of a hint of flavor to make it sufficiently sweet on its own. When I tried my husband's latte, the milk was a good temperature; it was creamy and sweet, but definitely not burnt or too foamy. My  only criticism was the flavor seemed to overwhelm the espresso, even with our extra shot. Any advice to the owners/recipe writers would be to just reduce the amount of syrup you use by default. Of course these things are easily adjusted by ordering the drink differently next time.
Overall, I would say that the atmosphere certainly makes this the hippest café in all of Elkhart county; be sure to check it out during their open hours. Hopefully they will be able to expand hours as business picks up over time.